On Friday, November 11, the Museum will be open from 9 a.m. to 4 p.m., with free admission all day. Don't forget to book your timed ticket online before your visit.
DON'T MISS IT
From November 24 to 27
Open on Thursday and Friday from 11 a.m. to 8 p.m., and on Saturday and Sunday from 9 a.m. to 5 p.m.
Free admission
After two years of absence, the Christmas Market is finally back at the Museum! More than 80 exhibitors await you in the majestic Grand Hall to showcase their delicious treats and unique handmade creations. Christmas decorations, woodcraft, glass items, gourmet foods, artisanal spirits, handcrafted jewelry, amazing fashion accessories, and more! The Museum's Christmas Market is a great place to do your holiday shopping in a festive and relaxed atmosphere. Don't forget your wish list!
ONGOING
From Pepinot to PAW Patrol® – Television of Our Childhoods
Until September 1, 2023
From Pepinot to PAW Patrol® – Television of Our Childhoods features nearly 100 of the television programs that encouraged Canadian children to read, write and count, along with more grown-up fare for tweens and teens. Packed with numerous clips from everyone's favourite shows, original costumes, puppets, and images, the exhibition is a must-see for anyone, from the very young to the young at heart.
CANADIAN CHILDREN'S MUSEUM
Hands-On Fun: Make a Mini Game!
As of November 5
From 9:30 a.m. to 3:30 p.m., and until 6:30 p.m. on Thursdays
Studio
Discover the world of game-making in our fully stocked Studio. This family activity nurtures board game creativity and strategy while encouraging learning through play. Bring your game on a Great Adventure and discover the world of games along the way. Your mini game is yours to keep, so take it home to play with your family and friends!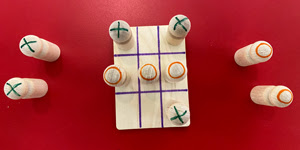 CINÉ+
Meet Dana, a 10-year-old girl who is passionate about dinosaurs and can even see them in real life! The action-packed adventure starts as Dana tries to solve Dino Experiment 901: Where are all the kid dinos?