This is the LAST CHANCE to visit the incredible Planet Ice: Mysteries of the Ice Age exhibit at the Museum of Nature. It is happening NOW until January 8, 2023. You can purchase tickets here.
About Planet Ice: Mysteries of the Ice Ages
Journey across more than 80,000 years of Earth's history! Take a journey back in time and explore the power of ice and cold in shaping the world we live in today. Produced by the Canadian Museum of Nature, this exhibition features more than 120 real specimens, amazing models and artifacts. Through engaging exhibits, multimedia and some "magical" moments, explore some of these mysteries and reflect upon how humans are part of the problem, and part of the solution.
Meet animals adapted for cold—some long extinct, others still alive today. Discover the lands lost long ago under the world's oceans. We are still living in an ice age, but the planet is changing. What would be our future without ice?
Amazing animals – Witness the rise of the mastodon and other imposing animals such as the smilodon, and giant 6 foot beaver.
Magical experiences – Don't miss games and interactives, including a stunning installation by Montreal's Moment Factory.
Discover our future – See why ice matters as the climate changes, and discover how you can help.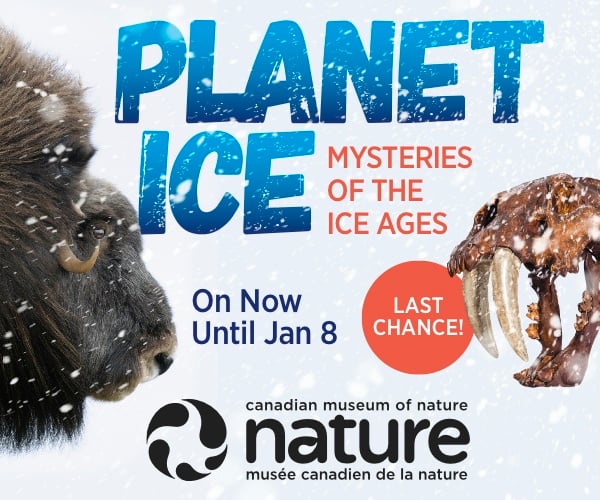 Support Local - Don't Miss This
Back by Popular Demand! – Planet Ice is back for a second run. Don't miss the chance to experience this truly incredible exhibition.
Developed Locally – This exhibition is purely Canadian; developed by our team at the Canadian Museum of Nature! But like the animals, it's only around for a short while.
Timed Ticketing – Limited tickets are available for this exhibition! Tickets should be purchased in advance online for timed entry.
What You Will See, Learn and Experience
View and experience over 100 different specimens including:
American lion
Mastodon
Smilodon
Short-faced bear
Giant beaver
Polar bear
Muskox
Caribou
Lichens, Mosses, and Other Plants
Journey from deep time to modern day in five themed zones.
The Power of Ice (Deep Time)
Built for Cold (80,000 Years Ago)
Lost Lands (40,000 Years Ago)
Shaped by Ice (20,000 Years Ago)
Cold Connections (the Present)