Ottawa Children's 'Fall into Play' Mini- Festival: Coming November 19-20
Since 1985, the Ottawa Children's Festival de la jeunesse (OCF) has hosted an annual celebration of the best in live performing arts for families. Creating programs for children, the Festival focuses on enriching school curriculum and promoting the arts as an integral part of a child's education; strives to present work that excites and challenges audiences of all ages; and prides itself on developing and producing award winning programming that comes from across Canada and around the world.
This November 19-20 is the 'Fall into Play' Mini-Festival and the line-up is incredible! Each show description can be found below and tickets can be purchased here.
Macaroni Kid Ottawa has a family 4-pack of tickets as a giveaway to the Mini-Festival. Enter the contest TODAY as it will only be running until November 16th.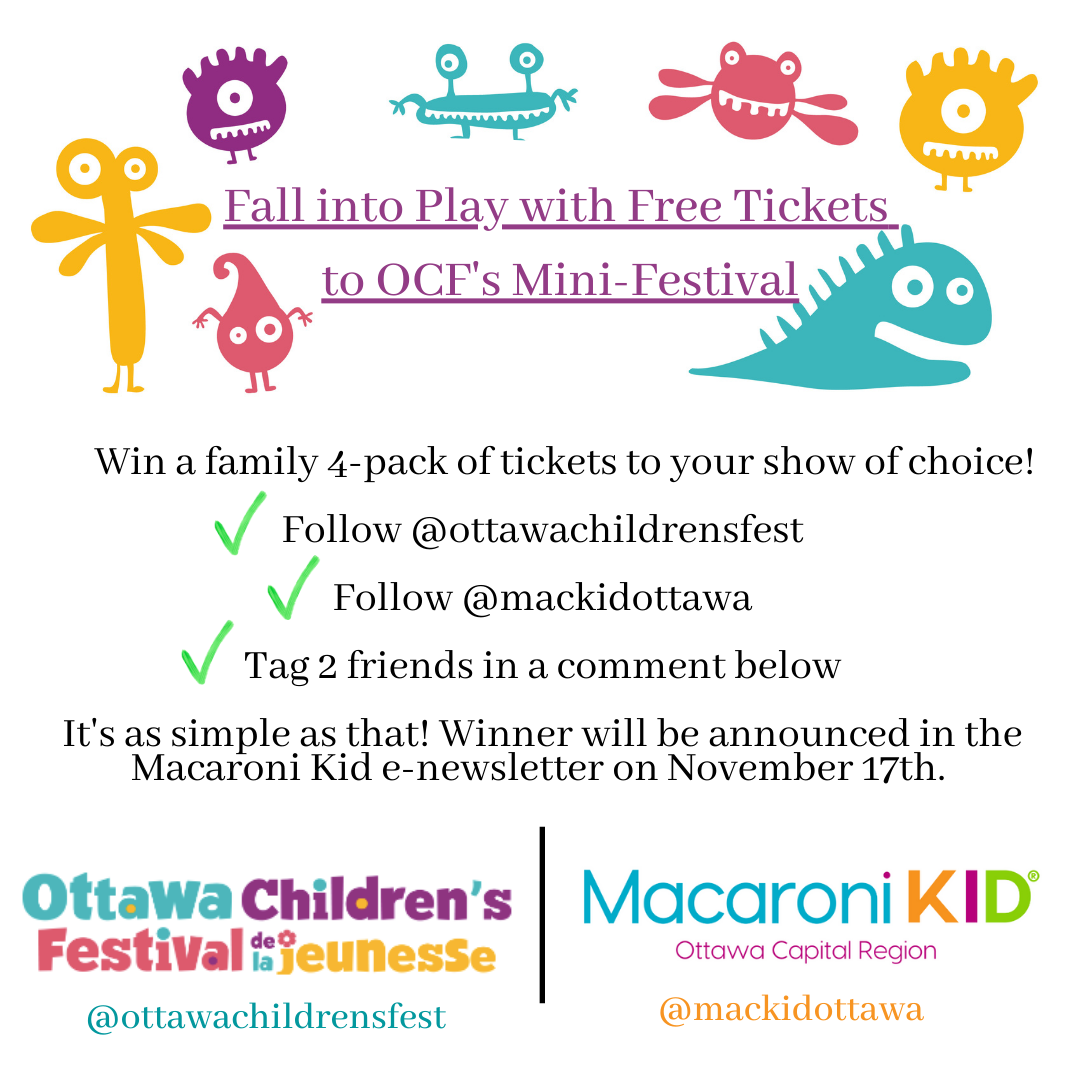 THE BILLY-CROQUETTES
JOSETTE LÉPINE FROM THE DUO LES SOEURS KIF-KIF, QUEBEC
40 MINUTES | ALL AGES | NOV 19-20 | BILINGUAL (ENGLISH/FRENCH)
ATELIERS C&D, CANADIAN WAR MUSEUM, 1 VIMY PLACE, OTTAWA
The Billy-croquettes is a small circus-fanfare composed of an accordionist and her mechanical animals. Little by little, her toys gain autonomy. Who is in charge? Who is in control? The fanfarist must deal with devices both endearing and unpredictable. Physical theatre, humour, and puppetry shape this sweet story filled with lively music and disobedient machines.
A CHRISTMAS CAROL
DUFFLEBAG THEATRE, ONTARIO
60 MINUTES | ALL AGES | NOV 19-20 | ENGLISH
BARNEY DANSON THEATRE, CANADIAN WAR MUSEUM, 1 VIMY PLACE, OTTAWA
Penny-pinching miser, Ebenezer Scrooge, is well-known across Victorian London for being far more interested in making money than friends. Above all else, he hates Christmas time and its spirit of giving. But on one particular Christmas Eve, several spirits give Ebenezer the surprise of his life, as they whisk him off on a magical journey through past, present and future, to show him the true meaning of the season. From Fezziwig to Tiny Tim, all the favourites are included in DuffleBag Theatre's exuberant version of the Charles Dickens yuletide classic!
DuffleBag Theatre is presented by Prologue to the Performing Arts, a charitable organization dedicated to bringing the performing arts to young people.
FELICITY FALLS
RAG & BONE PUPPET THEATRE, ONTARIO
45 MINUTES | AGES 4+ | NOV 19-20 | ENGLISH
BARNEY DANSON THEATRE / ATELIERS C&D, CANADIAN WAR MUSEUM, 1 VIMY PLACE, OTTAWA
Once upon a time a group of animals had to find a new place to live. They crossed grey, rocky mountains and found a green valley, a blue river and a small waterfall. The valley had everything they needed, so they built houses there, and a mill — and they called their village "Felicity Falls".
Rag & Bone Puppet Theatre delivers warm funny stories about life's little problems – like a lost teddy bear or a leaky roof. In a series of short stories, the show follows the everyday lives of a group of animals as they build their home and their community in the Ottawa Valley.
THE HAPPY PRINCE
SKELETON KEY THEATRE, ONTARIO
45 MINUTES | ALL AGES | NOV 20 | ENGLISH
BARNEY DANSON THEATRE, CANADIAN WAR MUSEUM, 1 VIMY PLACE, OTTAWA
Join us for this adaptation of Oscar Wilde's classic fairy-tale The Happy Prince ! Under the careful direction of Skeleton Key's award-winning Kate Smith, comes this magical radio play presented for a live audience. Come and experience the drama and fun of a radio show in this one-time only performance on Sunday, November 20 at 4:00pm.
A young swallow meets the Happy Prince, a gilded statue that has never experienced sorrow. After viewing people suffering in poverty, the Happy Prince asks the swallow to take his jewels, all of his adornments, and give them to the poor. The moral of the story is that true happiness comes from leading a good and compassionate life, even if it means making material sacrifices. Wilde's stories give young people and adults a renewed sense of the good in humanity.