For the curious kid in everyone, from age 5 and up
Get ready for the ultimate musical adventure! The BIG BANG Festival is back with a burst of colourful festivities at a joyful decibel this winter. Follow along for a musical journey featuring exciting concerts, surprise performances, sound machines and wild curiosities all over the building – your eardrums will thank you. Join us February 18 and 19 for a lively weekend with family and friends.
Tickets start at just $5. Check out the performances below!
In-person event
Event language English
Ages 5-12
≈ 55 minutes · No intermission
Tock-tick, tock-tick: time is out of whack and the clock's hands are spinning backwards as you chase the rabbit all the way to a tiny door. You already know what's hiding behind that door, or do you? You may think you know "Alice" and her "wonderland" by heart, but have you ever seen her many faces with your very own eyes?  
Here's a chance for you to experience ALL the movie and TV Alices in a dizzying, dazzling and delightful visual and musical performance! Against a backdrop of projected excerpts from the countless movie versions of this psychedelic classic, you'll be treated to live music improvised by three musicians playing around with all manner of instruments, contraptions, thingamajigs and sound samples. As you listen to the young Alice at the microphone, you'll suddenly find yourself, without quite knowing how you got there, seated at the Mad Hatter's table sipping a cup of tea.  
After returning home from this visual and musical trip into Lewis Carroll's bizarre world, you'll have some tall tales to tell your cat! 
This show is also offered in French under the title Alice Bricolé.
This performance is part of the BIG BANG Festival, two days of joyful decibels that will delight everyone's eardrums. At the NAC, Saturday and Sunday, February 18 and 19, 2023. Learn more!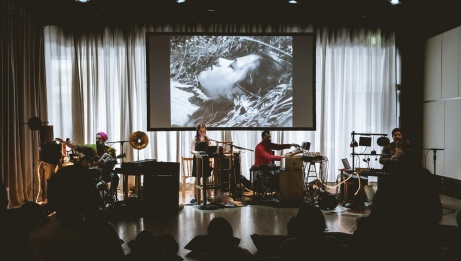 In-person event
Event language Bilingual
Ages 5-12
Awooooo! The younger sibling of NACO's popular WolfGANG Sessions, this kid-friendly chamber concert is filled with musical surprises.
Families can experience the thrilling possibilities of "indie classical" music in this fun and immersive concert, performed by our stellar NAC Orchestra musicians. Under a glittering chandelier and dazzling skylight, hear the winds beat box or the strings sing like birds in this exciting introduction to chamber music.
Only 60 tickets available for each performance!
This performance is part of the BIG BANG Festival, two days of "musicolourful" fun at the National Arts Centre on Saturday-Sunday February 18-19, 2023.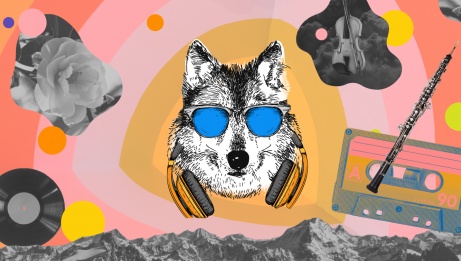 In-person event
Event language Bilingual
Ages 5+
≈ 20 Minutes · No intermission
Good news: one of our favorite artists from BIG BANG 2020 is back! The magnetic Bonsa returns for another round of Bissa music. Hailing from Burkina Faso, this groovy artist tunes his unique voice to the rythm of the Koanni — an incredible precussive guitar with only two strings. Impressive and downright irresistible!
Looking for a new adventure? Take a side trip to the Music Rooms!
About 15 minutes long and performed in unique spaces, these mini-concerts make a truly great musical experience for young ones. Enjoy the casual atmosphere, as artists perform for small audience groups, tucked away in intimate and mysterious settings.
This year's experience is offered in a "pick-your-own" format, with 3 different music room choices. Choose a single micro-concert or all of them—it's up to you! These miniature performances can be enjoyed in sequence or as a quick break in between other shows.
A festival favorite, the Music Rooms are exciting, affordable and an absolute must visit.
Off we go!
* Learn about Music Rooms 2
** Learn about Music Rooms 3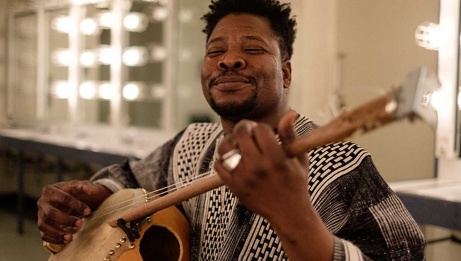 In-person event
Event language Bilingual
Ages 5+
≈ 45 Minutes · No intermission
Full of funk and irresistible flair — The PepTides are coming to the Big Bang Festival for the first time, and are bringing with them a colorful wave of songs that are sure to make the whole family groove!
The four instrumentalists and five vocalists behind the Ottawa-based group combine their diverse backgrounds and talents to create a musical sensation. Picture this: a blend of Bowie, Badu, Bach, B-52s and The Partridge Family. The result is an explosion of unique musical and visual flavour that echoes on stage. Hyper theatrical and inventive, the group offers extravagant compositions that mix humour and joy to provide a tender look on the world.
A truly bold and refreshing cocktail!
Bilingual ● Ages 5+
This performance is part of the BIG BANG Festival, two days "musicolourful" fun. At the NAC, Saturday and Sunday, February 18 and 19, 2023. Learn more!